Sensor E27 light bulb socket adapter
Working voltage: AC 110V OR 220V, 50/60Hz
Max load: 60W (incandescent lamp) / 20W (energy saving lamp)
Sensor spread: 360 degrees
Sensor Type: IR Infared
Suitable installation height: 2.8-3.5m
Detection range: around 5m
Timer Screw: Adjustable lighting time from 20s to 120s
Light Screw : Adjust ambient brightness, adjust how dark the room needs to be before the sensor turns on.
Sensor Screw: Adjust the sensitivity of the sensor to tune how easily the light is triggered on.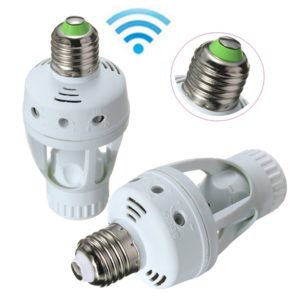 The Sensor E27 light bulb socket adapter easily converts any screw bulb socket into a fully operational sensor light simply and without the need of an electrician or custom installation, combine it with some energy saving lights and you have one optimized lighting solution.
With a sound sensor, When the decibel value detected sound to the outside is greater than the set value, it will make the circuit is turned on, the lights after a period of time, the circuit is disconnected, the Sensor E27 light bulb socket adapter turn off.
Light bulb sockets are the heart of Lighting Industries, without this lighting is not possible in this modern world and James Lighting is playing an important part in this field from last twenty years.